Đan Trường officially returned to the Vietnamese music market with his latest MV named "Thiên Hạ Hữu Nhân Tình" and received tumultuous applause from the audience.
The MV has garnered more than 8.6M views on YouTube in a few months from its release date.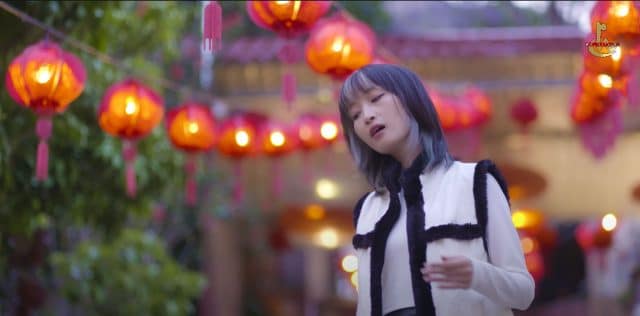 credit: "Thiên Hạ Hữu Nhân Tình" MV
The song is inspired by the soundtrack of the 1995 film "The Legend Of The Condor Heroes", with Vietnamese lyrics penned by PP Nguyen. In this project, Đan Trường teamed up with Juky San, an up-and-coming girl vocalist who is 22 years younger than him. With the support of his followers, Đan Trường decided to invite Juky San to participate in the music video, which he then shared on his YouTube channel.
"I'm a fan of The Legend of The Condor Heroes", Đan Trường explained, "so I sung the soundtrack to relive the memory of this great movie". Sharing about the reason to team up with Juky San, Đan Trường once stated that Juky San's voice and professional working style seem incredible to him.
credit: "Thiên Hạ Hữu Nhân Tình" MV
Besides, in his perspective, that when performing a duet, the two must be adaptable to combine their voices rather than demonstrating who has the greater and stronger vocal. Juky San deeply understands that herself, therefore, they both could attempt to collaborate at their best. The music video was shot merely within two days in Đà Lạt city. They do not, however, dress in historical costumes to fit the movie style, but opt for contemporary attire out of creativity. The song "Thiên Hạ Hữu Tình Nhân" is shared to be the opening product for Đan Trường's project "Hoa Hát".
credit: "Thiên Hạ Hữu Nhân Tình" MV
Juky San, from Thái Bình province, was born in 1998 and is most known for recreating hit songs such as "Một Đêm Say" (Thịnh Suy) and Mượn Rượu Tỏ Tình (Tiên Cookie), etc. In 2019, she competed in the Vietnamese show "The Voice" and was chosen to be a member of Hồ Hoài Anh team.
Thien Ha Huu Tinh Nhan: https://www.youtube.com/watch?v=SDXGZLJZgWE