Hiền Mai was an outstanding candidate of Noo Phước Thịnh's team of The Voice Vietnam Show in 2017. In that season of The Voice Vietnam, she won the second place and mesmerized the audience with her soulful and hypnotic vocal.
However, she didn't release any MV until November 5th, 2017 when she officially launched her debut MV "Già Cùng Anh Nếu Anh Cũng Muốn Già Cùng Em" (Grow Old With You If You  Also Want To Grow Old With Me).
Source: XoneFM
The song is about a girl's feelings, seeing many couples hand in hand on a rainy day. She gets jealous of them. That said, she somehow admires them because their youth is passing by so beautifully and peacefully. She also wants to go with her lover somewhere together to escape the city life. She will be deeply in love with him because youth can be experienced only once. She will love him with all her heart and give him all she has to be with him until the end.
The couple in the MV. – Source: YouTube.
"Già Cùng Anh Nếu Anh Cũng Muốn Già Cùng Em" is a deep melody ballad song which successfully conveys the opinion about genuine and long-lasting love. In the MV, Hiền Mai takes the role of a storyteller, reminiscing the rustic love story of a couple. Their love is not really passionate, yet happiness comes from the simplest thing. They quietly love each other until they are grey and old.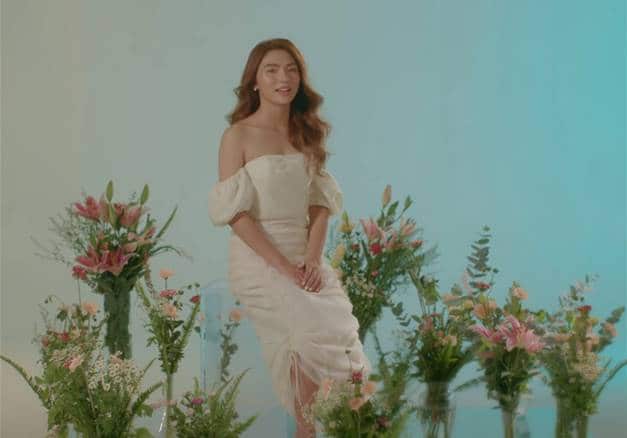 Hiền Mai in the role of a storyteller in the MV. – Source: YouTube.
The Vpop song was composed by Nguyễn Hải Minh Cơ. Hiền Mai shared that having a chance to meet him was such a good fortune in her life. She liked the song right after listening to its first melodies. She found that the song perfectly suited her mood at that time, resonating with the deep, rustic melody of the song, which was exactly the direction of style she wanted to steer her musical career towards.
Gia Cung Anh Neu Anh Cung Muon Gia Cung Em Acoustic version: https://www.youtube.com/watch?v=aRjpW256oJc