"Để Em Mãi Yêu Em" (Let Me Love Myself Forever) is an impressive cooperation of the young singer Lyly and musician Trang Ta, released on May 21, 2022. Following previous hits like "24h" and "Không Yêu Đừng Gây Thương Nhớ", the sophisticated MV with the angelic lyrics conveys a unique meaningful message about the soul of an innocent girl who finds joy behind the office work pressure.
The opening of the MV relaxes viewers' feelings by transitioning from a stressful working scene to a wonderland with a blue sky, white clouds, warm sunshine, hundreds of flowers blooming, and birds chirping.
Lyly wore a navy dress like a fairy standing out in the peaceful sky, softly singing a song, and enjoying her beauty.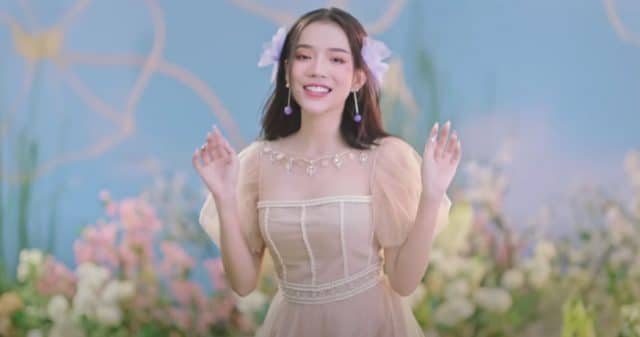 photo: "Để Em Mãi Yêu Em" MV
The sophisticated contrast between the single-color suits next to the chemical test tubes compared to the vibrant colors of the dress mixed with fragrant flowers and cool breezes conveys a meaningful message that even in difficult situations, a girl can still find happiness in her own life.
Even though there are times when life is full of worries,

I will still be bright and cheerful today.
With the cheerful pop melody and the seductive high-pitched voice, the song is like being added positive energy, which encourages the audience to be optimistic to find joy and harmony.
Be innocent, forget sadness for a brighter life.

Don't be afraid, bright colors are waiting.
She helps her listeners realize that behind all difficulties is success and the sun will shine when the storm is over. Finally, the confidence of the girl also emphasizes that no matter how adversity, she can still feel happy, and no matter how hard life is, she is still optimistic.
All we need to do is just try to be a better version day by day because no one loves you more than yourselves.
No one loves you more than yourself.

I'm constantly trying to be better day by day.