The latest hit "Trên Tình Bạn Dưới Tình Yêu" is still ruling over numerous music charts. On December 7th, MIN continuously entertained her fans with another new song named "Mlem Mlem".
She collaborated with two prominent Viet rappers: JustaTee and Yuno Bigboi in this new project. JustaTee is the person making the song's melody, and Yuno BigBoi is the person writing the lyrics.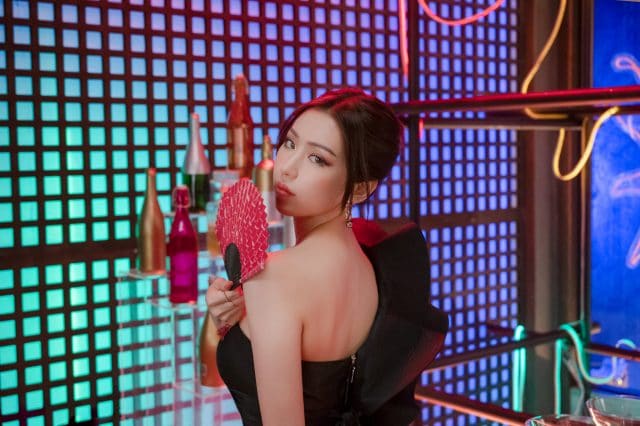 source: MIN's Facebook
The title is a trending word used all over Vietnamese social media. "Mlem Mlem" means to describe something engaging, captivating, and fascinating. Sharing about the new project, MIN said that she hoped to convey positive, energetic messages of life experienced through the young people's perspectives. Moreover, MIN also added that "be positive, be happy, and dare to take challenges to be the best version of yourself" is the precise message conveyed in the song "Mlem Mlem".
source: MIN's Facebook
The MV "Mlem Mlem" is the second collaboration of MIN and JustaTee after the previous massive hit "Vì Yêu Cứ Đâm Đầu". Therefore, there were not many challenges because they have worked together before. Additionally, this song is the first time she worked with a new rapper, a candidate of the famous show Rap Viet, Yuno BigBoi is considered a new breath of fresh air towards MIN's music style. This upcoming rap artist is promising to bring the kind of rap music that the audience are craving for.
source: MIN's Facebook
The whole Vpop MV is a subtle, clever use of colors that brings the sparkling effect when we first look at it. In the MV "Mlem Mlem", MIN is a charming restaurant owner appearing in a gorgeous outfit. JustaTee is a handsome chef, and Yuno BigBoi is an adorable waiter at the restaurant.
Mlem Mlem: https://www.youtube.com/watch?v=S7f24xceqSs