Recently, Phan Mạnh Quỳnh published the music video "Gặp gỡ, yêu đương và được bên em" which he exclusively composed for his new wife, Khánh Vy.
The song demonstrates the whole love journey of Khánh Vy and Phan Mạnh Quỳnh, from the moment they met, fell head over heels in love, and eventually getting married.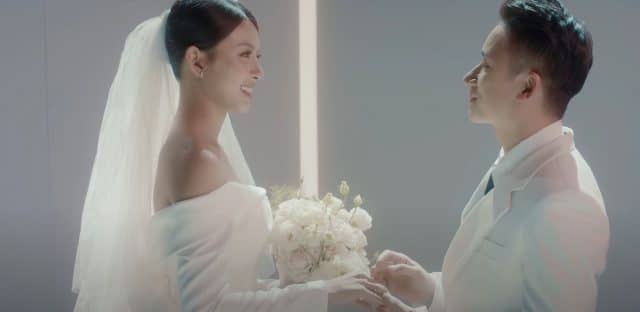 credit: "Gặp gỡ, yêu đương và được bên em" MV
They met each other when they had nothing, managed to overcome many vicissitudes of life together, and worked diligently to advance their careers.
credit: "Gặp gỡ, yêu đương và được bên em" MV
The MV "Gặp gỡ, yêu đường và được bên em" is quite simple but unique and romantic. In the MV, Phan Mạnh Quỳnh appeared in a black tuxedo sitting with a piano and singing the happiest song of his life. The bride donned a pristine white wedding gown and stood with a bright smile when Phan Mạnh Quỳnh entered the ceremony. The couple then exchanged wedding rings in the spotlight, bringing an end to their 5-year romance relationship and starting a happy marriage together.
credit: "Gặp gỡ, yêu đương và được bên em" MV
Phan Mạnh Quỳnh revealed that he was the one that planned the whole wedding party concept. Moreover, he also meticulously designed out a set of wedding rings, and then had them handcrafted for 120 hours. He also shared that he wanted to surprise his new wife on their wedding day, therefore, he kept all of that a secret from her.
The wedding of Phan Mạnh Quỳnh and Khánh Vy was scheduled for May 7th in Ho Chi Minh City, however, it had to be postponed owing to the 4th COVID-19 outbreak.
Since 2016, Phan Mạnh Quỳnh and Huỳnh Khánh Vy have publicly declared their love and earned loads of support from their followers. He offered his girlfriend several valuable material gifts, including a car worth 2 billion dongs, lucky money worth more than 123 million VND for the Tet holiday, and fancy trips to many spectacular destinations.
Gap Go, Yeu Duong Va Duoc Ben Em: https://www.youtube.com/watch?v=Xh0YQp9odv4