With "Nghĩ Trước Bước Sau", Phan Mạnh Quỳnh continues to write about expatriate laborers, yet in a radically different musical style, six years after the song 'Nước Ngoài'.
The song's content is about the importance of ensuring one's journey to work. Many people have become victims of fraud as a result of the chaotic information matrix and sophisticated scam methods, as well as the mentality of wanting to discover an underpass, a "shortcut" to improve the lives of a few workers.
credit: "Nghĩ Trước Bước Sau" MV
Illegal foreign labor, human trafficking, and modern slavery are examples of modern slavery. In light of this, the International Organization for Migration (IOM) – the United Nations Migration Agency – launched a media campaign as part of the UK Government-funded project "Tackling Modern Slavery in Vietnam" (TMSV) project.
credit: "Nghĩ Trước Bước Sau" MV
In response to the campaign, Phan Mạnh Quỳnh wrote the song "Nghĩ Trước Bước Sau" which includes the message in the title "Nghĩ Trước Bước Sau". When being asked to be an ambassador as well as a musician to compose the campaign's title song, Phan Mạnh Quỳnh expressed his delight at the opportunity. He believes that the most critical factor to consider when working overseas is legality, so that anyone who works abroad may minimize dangers and protect themselves.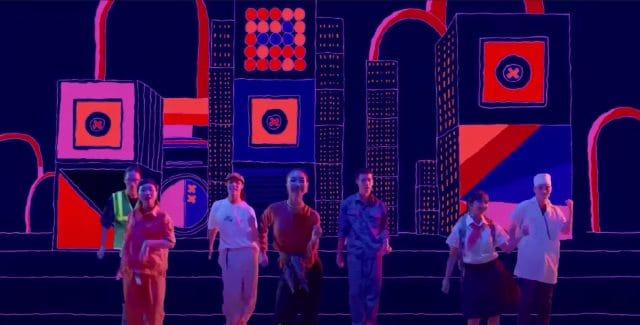 credit: "Nghĩ Trước Bước Sau" MV
The music video for "Nghĩ Trước Bước Sau" depicts the narrative of Tran, a young man who desires to obtain a high-paying job abroad to better his family's financial situation. Tran was perplexed by the plethora of information and brokerage services with extraordinary incentives after researching over the Internet.
credit: "Nghĩ Trước Bước Sau" MV
Tran was able to carry out the strategy thanks to the discovery of an official and legal source of information. Tran returned home after four years working abroad, purchased a new house, and helped his sister attend university and build her property.
Nghi Truoc Buoc Sau: https://www.youtube.com/watch?v=5FZNDefUcS8