Within 24 hours since the release of the trailer "Có Chắc Yêu Là Đây", Sơn Tùng M-TP beat his own record for the trailer of "Hãy Trao Cho Anh" with such a remarkable achievement. Just a few hours ago, Sơn Tùng M-TP revealed a piece of "Có Chắc Yêu Là Đây"'s melody on Facebook.
He also shared some of the song lyrics here: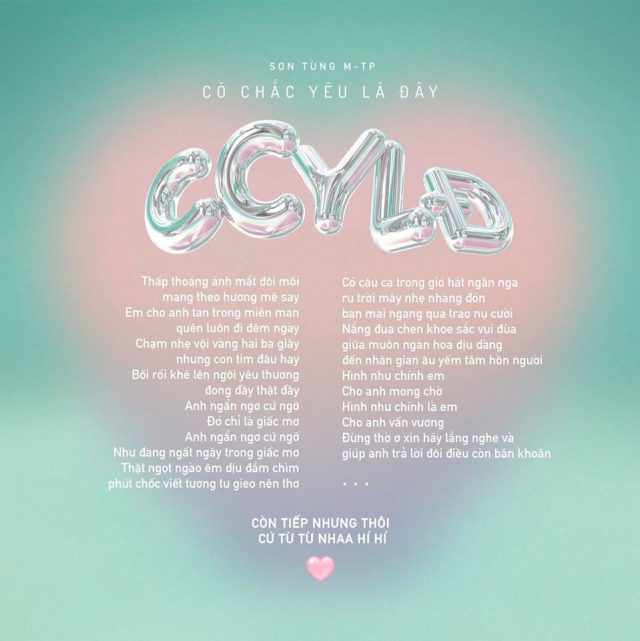 (Source: Sơn Tùng M-TP's Facebook)
After five mystery words emerging on Sơn Tùng M-TP's Instagram along with 45 social media posts adding to the suspense, eventually, the trailer video demonstrating an imposing comeback of this incredibly brilliant idol was released. Within 41 seconds with masculine scenes of Sơn Tùng M-TP and the glamour of carnation in the MV, the trailer legitimately shined out of the blue.
(Source: Sơn Tùng M-TP's Facebook)
Moreover, within 24 hours after the trailer was officially unveiled, the Vpop music trailer drew more than four million views, 456 thousand likes, and solidly sat on the second position on Vietnamese YouTube Top Trending.
This attainment genuinely brought Sơn Tùng M-TP a most-viewed-in-24-hour MV in the Vietnamese music market. It is frankly said that the 41-second-teaser video of Sơn Tùng M-TP is even more influential in the public than other MVs in Vbiz. The trailer video currently sits at over 6.7 million views.
Formerly, the teaser video "Hãy Trao Cho Anh" made the top 5 on YouTube trending along with more than two million views and over 200 thousand likes in the year of 2019. The trailer "Có Chắc Yêu Là Đây" is by far more superior in 2020.
What's happening now is a testament that Sơn Tùng M-TP has been gradually proving his great influence in the role of an all-time record-breaker.
It is seen that after only one year, all the numbers Sơn Tùng M-TP's MVs have increased twofold, which is the most dominant, and noticeable at this moment.
Furthermore, this short trailer clip of his latest song has reached on top trending 16 in Canada, top trending 44 in America, and even sneaked up to the world's most-viewed music video list on June 29th. This is such a flabbergasting accomplishment that no other Vietnamese artist have done before. "Có Chắc Yêu Là Đây" is expected to premiere on July, 5th at 8 PM Vietnam time by the crew, and coincidentally or organizationally, the release would fall on the 26th birthday of Sơn Tùng M-TP.
Sơn Tùng M-TP's Facebook: https://www.facebook.com/MTP.Fan