If you're looking for a winter wonderland, look no further than Vietnam! While many people think of Southeast Asia as a hot and humid destination, the country actually has some beautiful snow-capped mountains in the north. In this blog post, we'll take a look at two of the most popular destinations for witnessing winter in Vietnam: Y Ty and Sapa.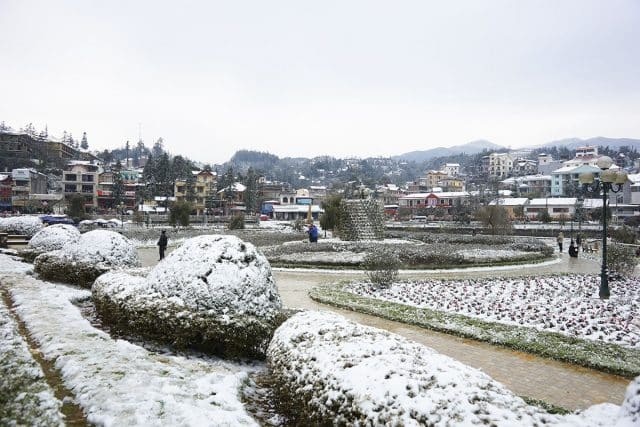 photo: VN STOCK
1. A quick introduction to Y Ty and Sapa, two small towns in Northern Vietnam that are known for their snow-capped mountains
Y Ty and Sapa are two small towns located in the mountains of Northern Vietnam. They are known for their picturesque snow-capped peaks, rolling green hills, terraced rice fields, and traditional villages set against a stunning backdrop of the Hoang Lien Son mountain range. Y Ty is located at an elevation of 1,000 meters, while Sapa is 1,500 meters above sea level. Both towns offer stunning views of the snow-capped mountains in winter and attract many tourists each year.
2. The climate in Y Ty and Sapa during winter
Y Ty and Sapa are located within a temperate climate zone so they experience cold winters with temperatures dropping to as low as -5 degrees Celsius. The snow usually starts falling in the months of December and January and can last until March. During this time, the towns are transformed into a winter wonderland with beautiful landscapes blanketed in white snow.
3. Some of the best places to see snowfall in Vietnam
The best places to witness snowfall in Vietnam are Y Ty and Sapa. Here you can explore the picturesque mountainside villages, go skiing or snowboarding on the slopes of Mt Fansipan (Vietnam's highest peak), and take in the breathtaking views of the Hoang Lien Son mountain range. You can also enjoy a variety of winter activities such as snow rafting and ice skating.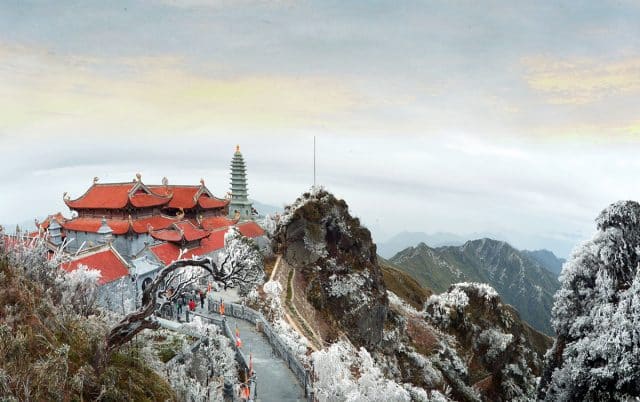 photo: thi
4. How to get there – whether you're flying into Hanoi or taking a train ride up north
The easiest way to get to Y Ty and Sapa is by flying into Hanoi, the capital of Vietnam. From there, you can take a train ride up north to Lao Cai station, which is the closest rail stop to these two towns. Alternatively, you can also hire a private car or join an organized tour from Hanoi.
5. What to do when you arrive – from hiking and exploring the villages to relaxing in a hot springs resort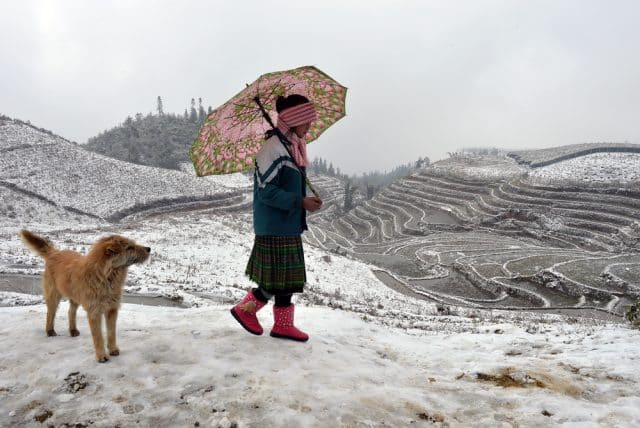 photo: thi
Once you arrive in Y Ty and Sapa, there are plenty of things to do and explore. From taking a hike through the snow-covered peaks and exploring the traditional hillside villages to visiting nearby hot springs resorts, there's something here for everyone. You can also take part in cultural activities such as learning how to make local dishes or joining the mountain people in their traditional dances.
Whether you're looking for a winter wonderland or just to escape from the heat of summer, Y Ty and Sapa are worth checking out. With its snow-capped mountains, beautiful landscapes, and plenty of activities to do, this is sure to be an experience you won't forget! So why not make the trip and witness winter in Vietnam?
6. Where to stay – from budget-friendly hostels to luxurious resorts
When you visit Y Ty and Sapa, you'll be spoilt for choice when it comes to where to stay. The town offers a range of accommodation options to suit any budget – from cheap local hostels and homestays to luxurious resorts with spectacular views. Whichever option you choose, the friendly locals will make sure your stay is an unforgettable one.
7. What to eat – local delicacies as well as international cuisine
When it comes to dining, Y Ty and Sapa offer a range of options – from traditional local dishes such as banh cuon and com ga (rice noodles and chicken) to international cuisine. There are also plenty of street food vendors selling delicious snacks that you can enjoy while taking in the stunning views of the mountainside.
8. How much it will cost you – everything from transportation and food to accommodation and activities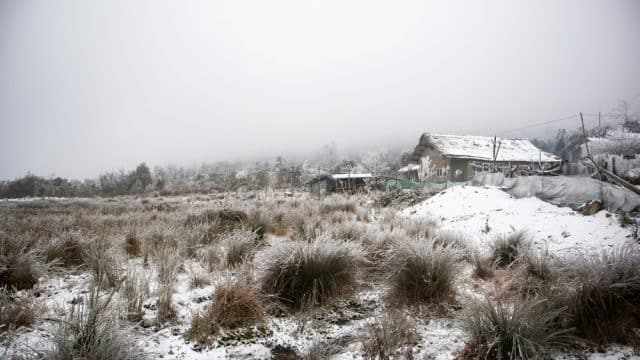 photo: thangvmdecor
The cost of visiting Y Ty and Sapa will vary depending on what you're looking for. Transportation, food, accommodation and activities can all be quite affordable – with the option of splurging on some luxury if desired. If you're on a tight budget, there are plenty of ways to keep your costs down while still having an unforgettable experience.
So if you're looking for a winter escape or just want to explore somewhere new, Y Ty and Sapa should be on your list! With its stunning landscapes, unique culture and plenty of activities to do, this is sure to be an unforgettable trip. So why not make the journey and witness winter in all its glory?