From its vast limestone mountains to the abundance of caves and exotic rice fields, Ha Giang province in northern Vietnam is a sight to behold. Widely regarded as one of the country's majestic destinations, Ha Giang has everything that travelers could hope for in an unforgettable adventure — towering peaks and lush green valleys full of ancient history waiting to be explored. From beautiful mountain passes with precipitous edges to bustling local markets where traditional culture mixes with modernity, this region offers plenty of eye-catching nature and vibrant cities alike. For those looking for new ways to experience Vietnamese culture firsthand, Ha Giang Province is sure to delight with its stunning landscapes and hospitality!
1. Ma Pi Leng Pass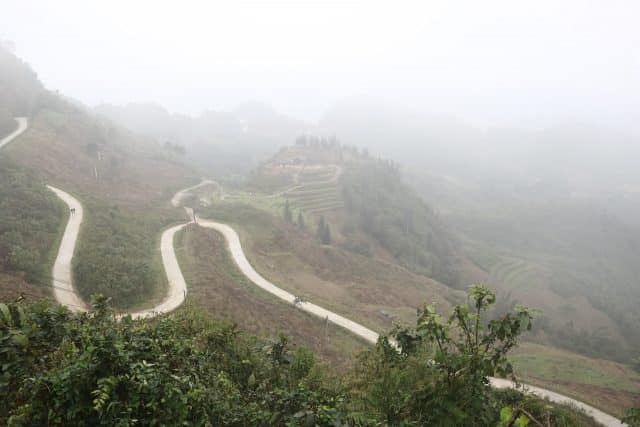 photo: Phương Anh Nguyễn
Ma Pi Leng Pass is one of the most stunning natural wonders of Ha Giang province in northern Vietnam. Located at an elevation of 2,000 meters, Ma Pi Leng is a mountain pass that lies between Meo Vac and Dong Van districts, spanning a length of 20km.
The sheer cliffs and dizzying drop-offs of the pass make for a thrilling ride, showcasing some of the most breathtaking scenery in Vietnam. Along with its steep curves and winding mountain roads, this route offers spectacular views and ample opportunities to explore traditional villages and markets.
2. Dong Van Karst Plateau Geological Park
Dong Van Karst Plateau Geological Park is a UNESCO World Heritage Site located in the Ha Giang province of northern Vietnam. It is notable for its karst landforms and spectacular mountain passes, most notably Ma Pi Leng Pass along its edge. The park's landscape is unique in that it includes both limestone mountains and sandstone hills, along with a number of stunning limestone cliffs and rock formations.
The park is home to many ethnic minorities, including the Hmong, Dao, Tay and Nung peoples. Traditional culture can be found everywhere you go in this remote region — from vibrant local markets to traditional villages nestled deep in the valleys.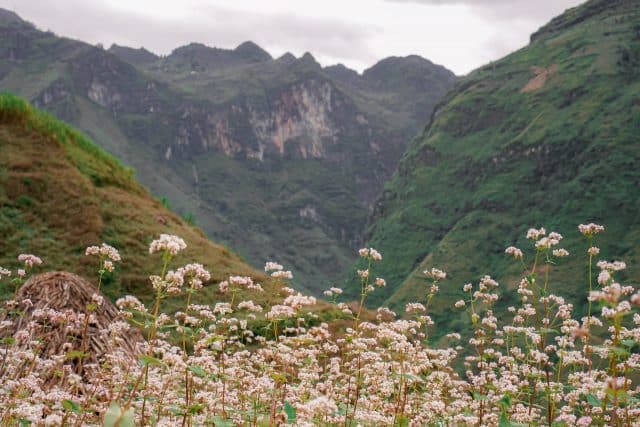 photo: Irish83
3. Vuong Palace
Vuong Palace stands as a testament to the ambition and legacy left by Vuong Chinh Duc. The grand, three-floor building is covered in traditional Vietnamese designs, such as red-tiled roofs and intricate lacquered wood carvings. Its many balconies, carved stone walls, and terraced courtyards speak to its distinguished connection with Vietnam's heritage of imperial architecture. Although it has sustained some damage throughout the years due to frequent earthquakes in the area, Vuong Palace remains an impressive and memorable monument of its era.
4. Tea House of Baiyue Tribes
The Tea House of Baiyue Tribes is a unique and fascinating destination for those looking to experience a traditional ethnic minority culture in Ha Giang, Vietnam. Located in the heart of the province, this tea house serves as a major cultural hub, where guests can sample authentic Baiyue cuisine, tea, and attend performances of traditional folk music and dance.
The Tea House of Baiyue Tribes also features a captivating display of traditional art, costumes, and artifacts, allowing visitors to immerse themselves in the local culture. From here, there are plenty of opportunities for trekking, sightseeing, and exploring the stunning natural beauty this part of Vietnam has to offer.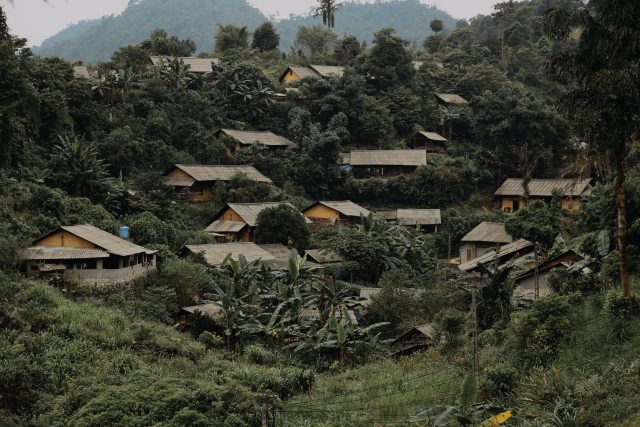 photo: Minh Triet
5. Sung Khanh Pagoda
Sung Khanh Pagoda is a breathtaking Buddhist temple located in Xuyen, Ha Giang Province, Vietnam. Built-in the late 19th century by a monk named Quang Tien, Sung Khanh Pagoda stands as a reminder of the long heritage and rich culture of Vietnam's mountain regions. Its intricate architecture and stunning mountainous backdrop make it an impressive and beautiful sight to behold.
The pagoda is home to several ancient artifacts, including a 700-year-old bronze bell and statues of Buddha from the 17th century. It also features a stunning garden, as well as many colorful murals and sculptures that offer visitors insight into traditional Buddhist beliefs.
Ha Giang is a province in the northeast region of Vietnam that is known for its stunning natural scenery and diverse ethnic minority cultures. The five destinations we have highlighted above are just a small sampling of what this beautiful province has to offer visitors. Whether you're interested in historical monuments, traditional cuisine, or breathtaking landscapes, Ha Giang has something for everyone. So be sure to add it to your travel list – you won't regret it!