After several collab songs with Tùng Maru, the couple from 6th Sense Entertainment once again collaborated in their latest MV "Thế Là Không Xanh Chín Rồi".  The Vpop MV was released on September 30th, 2020, which is another pop song of Sara and Maru (SaRu) with catchy and lovely melodies and impressive lyrics with amazing wordplay.
The song is a composition of Tùng Maru and T.R.I.  It is also the first OST for the web drama "Đừng Làm Bạn Nữa" with the participation of Han Sara and Tùng Maru. In this song, Tùng Maru is in the role of a rapper which is forte.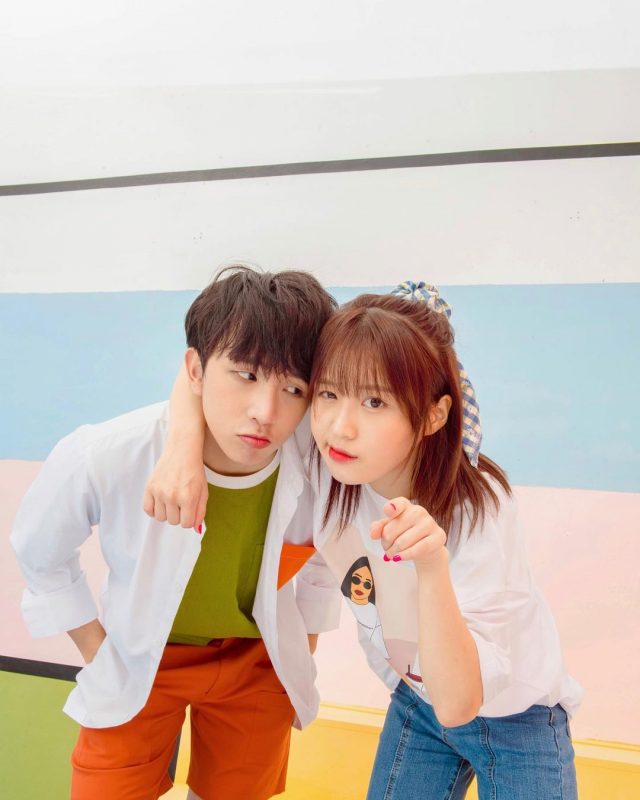 source: Han Sara's Instagram
The story in the MV is that Han Sara is trying to flirt with Maru, while he all knows that, he acts so cool and pretends that he didn't care. Even though he probably has feelings for her, he tries to play with her feelings which makes her sad. "Thế Là Không Xanh Chín Rồi" is an exclamatory sentence to express that Tung Maru is unfair.
Older versions of Han Sara and Tùng Maru in the MV (source: Han Sara's Facebook)
They grow up together until they are gray and old. There is a scene in the MV that Han Sara and Tùng Maru must impersonate an old man and woman. They flirt around since school years to working together at the cafe, and finally until sitting on the bench being gray and old but they still haven't fallen in love.
source: Han Sara's Instagram
The song wants to remind people to confess with the one you love, or you will end up regretting like the couple in this MV.  Han Sara shared that it was the first time they see the other in that appearance, and they can't stop laughing, which makes the team needs to film that scene many times.
The La Khong Xanh Chin Roi: https://www.youtube.com/watch?v=cI4r5R388Tc