Halong Bay is a beautiful place that is definitely worth visiting. In this guide, we will go over everything you need to know in order to have a great trip. From what to pack, to how to get around, to where to stay and eat – we've got you covered!
Getting There
Halong Bay is located in northeast Vietnam, about three hours from Hanoi. The easiest way to get there is by taking a bus or minibus from Hanoi. You can also take a train, but it takes significantly longer (nearly 5 hours) and isn't necessarily any cheaper. Once you arrive in Halong City, you will then need to take a boat out to the bay itself. Again, there are multiple options here – you can either take a group tour on a large boat, book a private tour, or even rent your own boat for the day!
What to Pack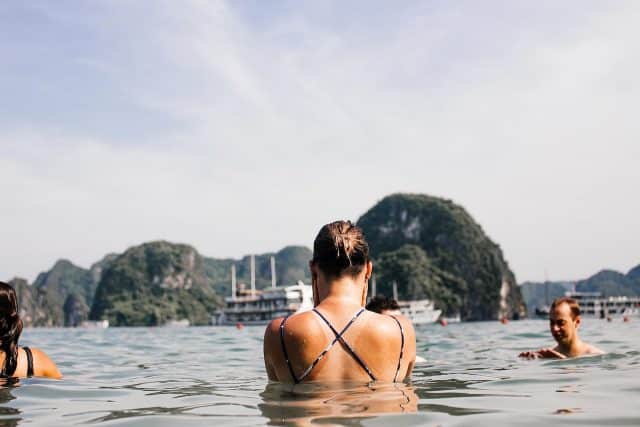 photo: Rachel Claire
Once you have your transportation sorted out, it's time to start packing! Here are some essential items:
-Sunscreen: Even if it's not super sunny, the reflections off the water can be intense. You'll want at least SPF 30, but higher is better.
-Bug spray: There are mosquitoes in Halong Bay – lots of them. Be sure to pack bug spray with DEET (the higher the percentage of DEET, the better).
-A hat or scarf: To protect yourself from the sun and/or bugs.
-Comfortable walking shoes: You'll be doing a lot of walking on uneven surfaces. Leave the flip-flops at home!
-A light jacket or sweater: The weather can be unpredictable, and it can get cool in the evenings.
-Your camera: This one goes without saying. Halong Bay is incredibly photogenic.
-Cash: There are ATMs in Halong City, but they often have long lines and may not accept foreign cards. It's always best to have cash on hand just in case.
Exploring Halong Bay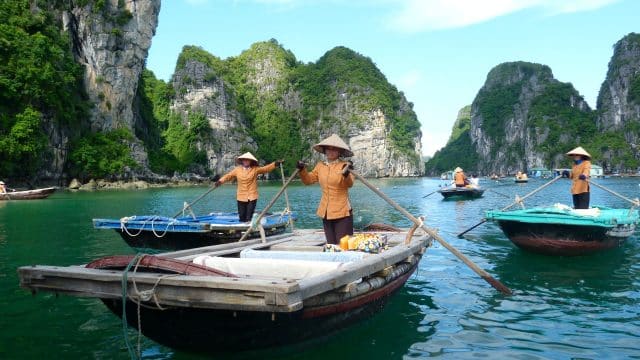 photo: Gary Cacciatore
There are two ways to explore Halong Bay: by land or by sea. If you're feeling active, you can hike through some of the many caves dotted around the bay. Or, if you would prefer something more low-key, you can take a leisurely stroll along one of the many pristine beaches. Of course, no visit to Halong Bay would be complete without taking a boat ride out onto the water! Whether you choose a group tour or go it alone, being out on the bay is an unforgettable experience. Make sure to keep your camera handy – you'll want to capture every moment!
Where to Stay & Eat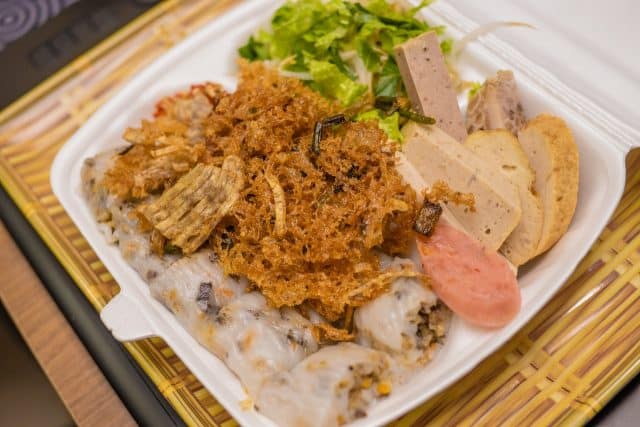 photo: FOX
Staying in Halong City (the jumping-off point for most tours of Halong Bay) is extremely cheap by Western standards – expect to pay around $10 per night for a basic room in a guesthouse or hostel. When it comes time to eat, there are plenty of options available ranging from street food vendors selling traditional Vietnamese fare to Western restaurants catering to tourists' tastes. And of course, no visit to Vietnam would be complete without trying pho soup!
If you're looking for a beautiful and affordable destination to visit, Halong Bay is definitely worth considering. In this guide, we have covered everything you need to know in order to make the most of your trip. From what to pack, to where to stay and eat, we've got you covered!