The universe of superstars of Garena Free Fire finally welcomed the next member – Skyler.
Skyler – the very first Vietnamese game character, inspired by Sơn Tùng M-TP, officially appeared in Free Fire on February 5th, 2021.

source: "Skyler" MV
This is considered a milestone to Vietnamese gamers in particular, and global players of Free Fire in general; after staggering successes with the participation of top international superstars such as Cristiano Ronaldo (Chrono), DJ KSHMR (K).

source: "Skyler" MV
Along with the new character in the game, a theme music video of Skyler also reached over 15 million views on YouTube within three weeks after its release. Many gamers said that they could not wait any longer to have Skyler in their collection.

source: "Skyler" MV
To fulfill the expectations, Garena Free Fire allowed its players to own Skyler and exclusive clothes by spinning a Random Wheel that took place from February 5th to 11th. Besides, gamers would have a chance to receive gifts related to the new Skyler. Particularly, for players who have pre-ordered, Skyler could be experienced immediately from the 4th until the OB26 update is completed.

source: "Skyler" MV
Being inspired by the life of Sơn Tùng M-TP, Skyler in the world of Free Fire is a dancer – singer who has reached the peak of his career in his twenties. The burning aspiration and keen mentality drive him to create a particular entertainment world to fully devote his life to art. Putting a white tuxedo on, Skyler represents the head of one of the top entertainment companies – M-TP Entertainment.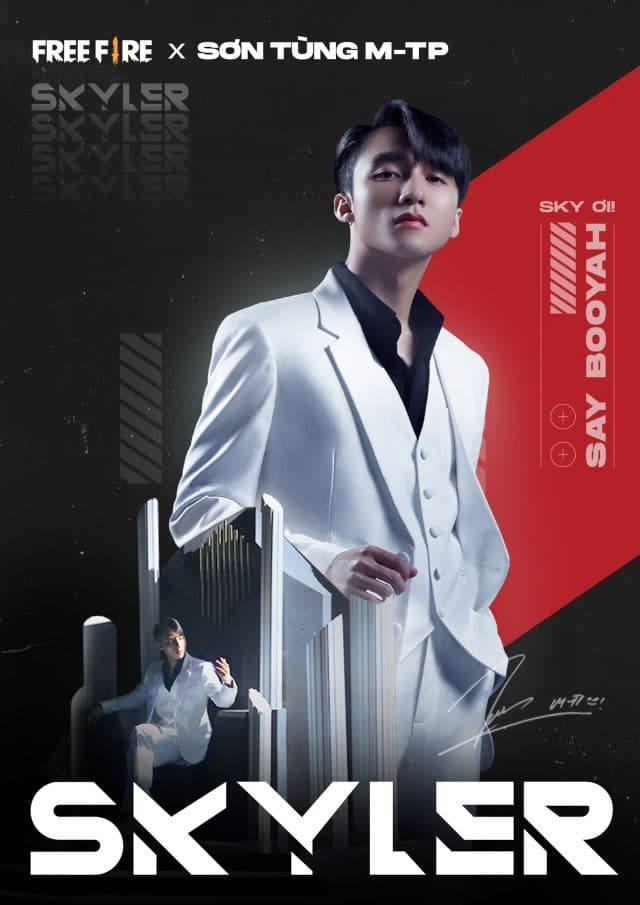 source: Sơn Tùng M-TP's Facebook
Speaking of the process of creating Skyler, Sơn Tùng M-TP once said: "Skyler is the impeccable, flawless version of Sơn Tùng M-TP in terms of an iconic image, fashion style, and so forth. Whenever looking at Skyler, people can see Sơn Tùng M-TP present".