After a year hiatus, Châu Khải Phong is now back on the game with the song "Áo Cũ Tình Mới" released on May 25th. In the MV "Áo Cũ Tình Mới", Châu Khải Phong incarnated as a plain farmer with his love for a girl in a remote village.
Not only did he greatly invest in the audio of the song but he also made a great amount of effort in terms of video and content creation.
source: Châu Khải Phong's Facebook
The singer of a massive hit "Ngắm Hoa Lệ Rơi" also built up an intriguing story with lots of plot twists that brings many surprising moments to the audience while watching the MV. He is a poor farmer who is in love with a charming, adorable girl in town.
source: Châu Khải Phong's Facebook
However, the girl, eventually, ends up getting married to a rich guy (played by Cao Minh Đạt). Although Châu Khải Phong loves the girl deeply, he must give up on her because he wants her to have a happy life with Cao Minh Đạt. Unexpectedly. The girl does not have a good life of marriage as he thought she would. She has to suffer domestic violence from that rich guy. Châu Khải Phong always secretly helps her while knowing that she is now the wife of someone else.

source: "Áo Cũ Tình Mới" MV
On another note, the girl somehow comes to know that the guy that she gets married to is the one that murdered her family. It helps him realize that the girl abandons him because she wants revenge for her family by getting married and planning to kill the rich guy, not because she does not love him. However, that rich guy discovers that and kills the girl in front of Châu Khải Phong making him catastrophically miserable.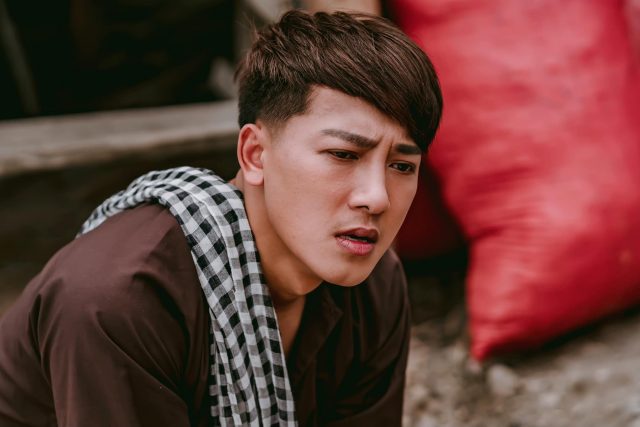 source: Châu Khải Phong's Facebook
It is clear to see that this ending plays a big part in the resounding success of the MV. Châu Khải Phong once shared that when he first listened to the audio of the song "Áo Cũ Tình Mới", he immediately visualized the style and theme for story. In his perspective, the story should be more colorful rather than follow any cliche of an old love story as always.
Ao Cu Tinh Moi: https://www.youtube.com/watch?v=fm95RXeGF8I