The MV "Khi Thế Giới Đó Mất Đi" – a product of Gala Nhac Viet, performed by Hương Ly and Tăng Phúc, garnered a million views and was ranked on the top of numerous music charts in Vietnam.
The song was written by one of the most sought-after Vietnamese musicians – Hoàng Thuận.
AD
Travala – Get the Best Prices on 34,986 Hotels and Accommodations in Vietnam
He has been well-known since his collaboration with many A-listed Vietnamese singers such as Đan Trường, Ưng Hoàng Phúc, Nhật Tinh Anh, Bằng Cường, Hiền Thục, Bùi Vĩnh Phúc, Hồ Gia Khánh, Hoàng Thịnh and so forth.
credit: "Khi Thế Giới Đó Mất Đi" MV
"Khi Thế Giới Đó Mất Đi" is Nguyễn Hoàng Thuận's exclusive composition for the Gala Nhac Viet show, particularly for the duo Hương Ly and Tăng Phúc to perform.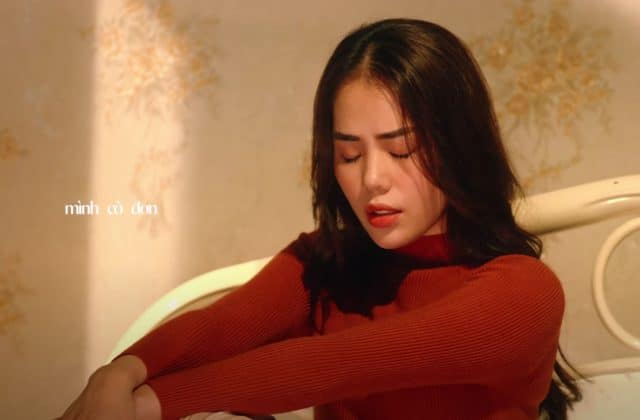 credit: "Khi Thế Giới Đó Mất Đi" MV
Hương Ly, a social phenomenon, has been well-known for covering a series of massive hits such as "Thế Thái", "Cô Gái Vàng", "Hạnh Phúc Bỏ Rơi Em", "Níu Duyên", "Hoạ Mây" and etc. Her cover videos outperformed its originals and gained over a hundred million views on YouTube. Therefore, it should come to no surprise that the MV "Khi Thế Giới Đó Mất Đi" was expected to stir up the whole Vpop.
Even though the MV was supposed to be a sorrowful scene, Hương Ly and Tăng Phúc' behind-the-scene photos were more like a comedy show which makes their fans even more excited about this musical collaboration.
credit: "Khi Thế Giới Đó Mất Đi" MV
Besides, to carry out the romantic kissing scene in the MV, Tăng Phúc and Hương Ly had to stand hours to hours on a terrace. Tăng Phúc also confessed that he had acrophobia which means that he has severe anxiety and an intense fear of height. With all his courage, he decided to sacrifice for an incredibly romantic scene.
Khi The Gioi Do Mat Di: https://www.youtube.com/watch?v=ZpO1jlnng2o