The MV "Có Hẹn Với Thanh Xuân" was officially released by MONSTAR. It symbolizes the return of the boys after a two-year-long hiatus.
The MV is also a gift from MONSTAR to their fans who have consistently supported the group over the years. The MV "Có Hẹn Với Thanh Xuân" demonstrates five different dating scenes of each member of MONSTAR.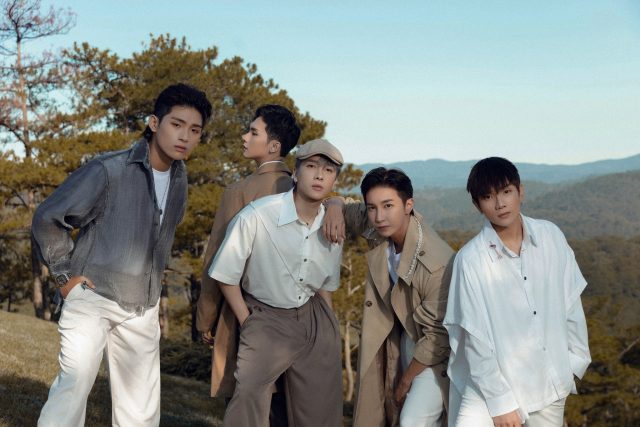 credit: MONSTAR ST.319's Facebook
In the MV, all five singers had romantic dating moments with Klaudia, the female lead. The woman promised to go to the rear of the hill at the end of each date with each of them.
credit: MONSTAR ST.319's Facebook
Eventually, the girl turns out to represent the youth of those boys. At the end of the MV, they arrived at the location where the girl had told them to be, and all gazed in the same direction. The image that the girl gradually vanished means that all members in MONSTAR are now becoming more mature as their youth has passed.
The song "Có Hẹn Với Thanh Xuân" was written by the two members NICKY and GREY D. It is shared that the time spent on nurturing the song was quite long as the group wanted to deliver a proper song with high quality in both content and music. The song's content focuses on evoking the story that anyone has ever gone through in their life – the story of first love, about the experiences of youth.
The MV "Có Hẹn Với Thanh Xuân" which was filmed in Đà Lạt, features remarkably clear and beautiful imagery.  From the perspective of young people, Đà Lạt city appears to be full of passion in MONSTAR's MV.
Everything looks magnificent, from the pine forest to the back of the hill to the sunset and Đà Lạt at night, making young people nostalgic for their youth.
Co Hen Voi Thanh Xuan: https://www.youtube.com/watch?v=vpRi8S6uXAg